Digital Transformation Classroom of the Month

December 2016
Camp Explore Classroom Flip
by: Ashley Long & Heather Fay
After two days at Camp Explore, Mrs. Fay and Mrs. Long wanted to extend the excitement of learning at camp by creating their own camp for the rest of the week at Highland. We wanted to create an engaging and memorable learning experience for our kids, so we transformed our classrooms into a day and night camping scene. We have researched highly effective classrooms and found that if you create an environment that is relevant to students' interests, excites the students, promotes rigor, and is visually appealing that it will create higher levels of engagement for students!
By turning our classrooms into camp sites, we set the stage for the students' learning. When the students walked in, they were very excited!
In ELA, the students heard a ghost story that ended on a cliffhanger! They dissected the story and figured out a way to make it better. Then, the students created their own personal narratives with a spooky twist. They met with a partner to edit their stories. Finally, the students shared their stories around our campfire.
In Math, students worked on operations with decimals. They had to plan a camping trip to a destination of their choice. During their planning, they had to buy items such as a tent, sleeping bag, camping chairs, etc. They also had to purchase food for their meals during the trip. All of this required them to add and subtract decimals, which was one of our target standards during this time.
For the STEM project, students watched a video on their new laptops that gave them a supply list and step-by-step directions on how to create a solar oven. When their ovens were finished, they were able to cook s'mores for a camping treat!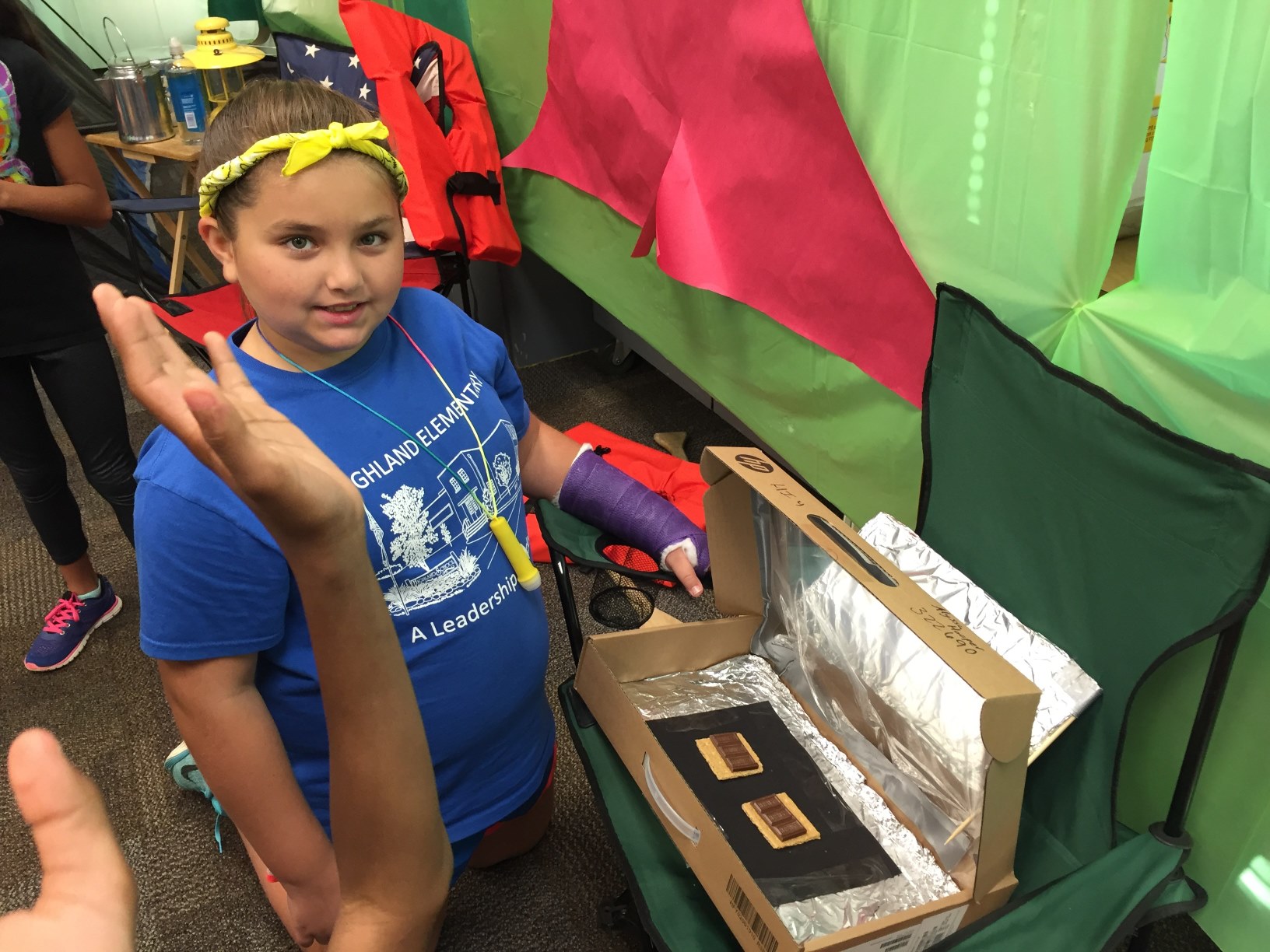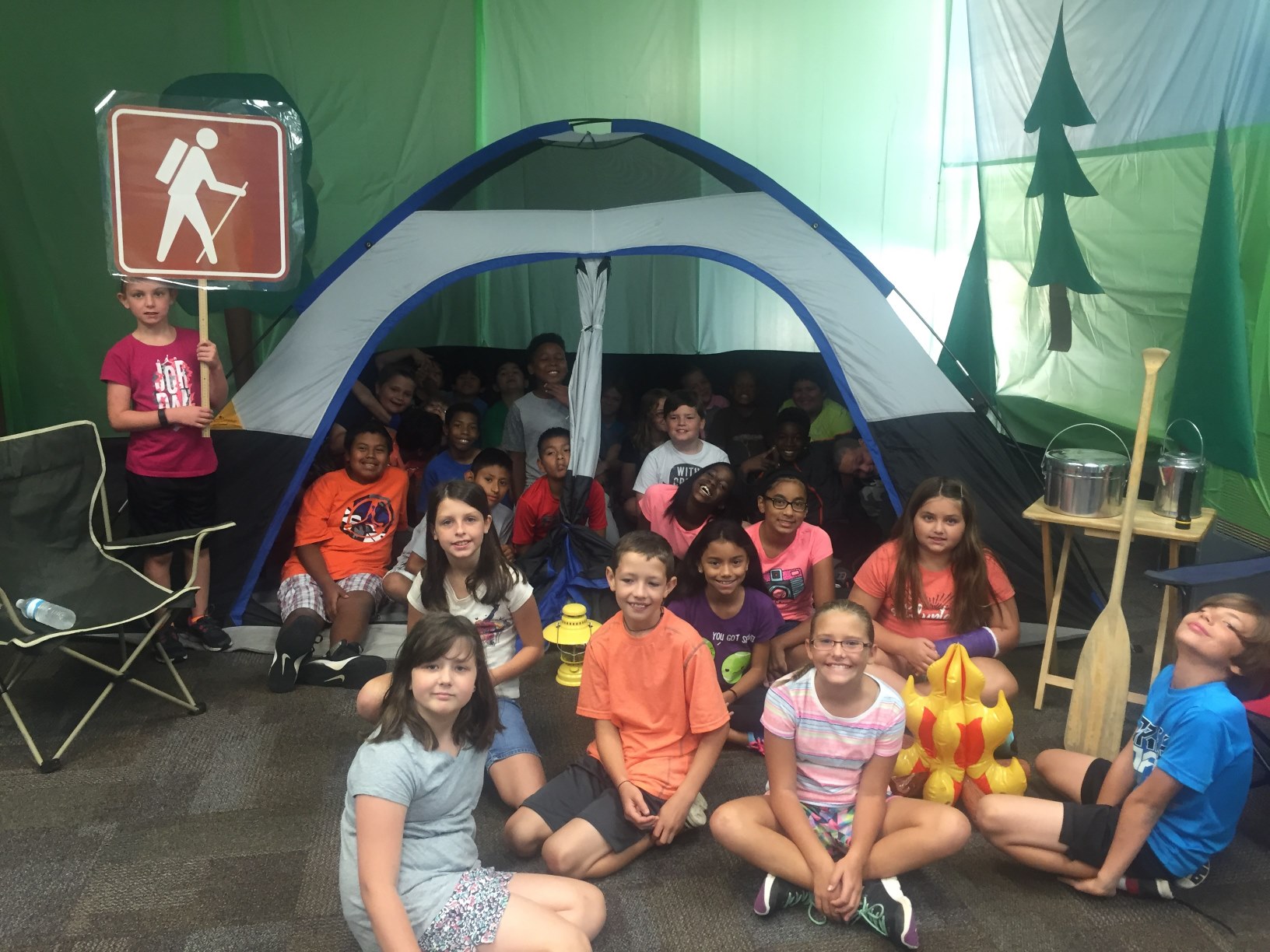 October 2016
Swivl Video Math
by: Adrienne Rose
In Ms. Rose's class, the students were divided into groups and given topics to teach to the other students in the class. Each topic built on the other and formed a complete unit. They had to develop a lesson plan, make a notes sheet, record a presentation using the Swivl device, and assign homework to the class. Each group member was assigned a responsibility: teaching, making the notes, creating the homework, etc. They all had to work together to make sure the notes went with the presentation, and the homework was aligned.
"I just let them go. It was awesome! They have asked to do this again," said Adrienne Rose, GMS Math Teacher.
This lesson enabled students to learn the material at a deeper level and from each other. While the teacher was teaching the class, the other group members walked around making sure other students were on task and answered questions. The unintended benefit was that each student gained respect for teaching. Students also learned to integrate Promethean with Microsoft Powerpoint and Microsoft Word.
When the groups completed the project, they were given a section review. "During the review, instead of asking me questions, the students went to one another for the answers," said Ms. Rose. "One student would ask, "Where is the Linear versus Non-Linear group?" Another student would then reteach the material. Some students even went back to the Promethean board to reteach smaller groups of their peers."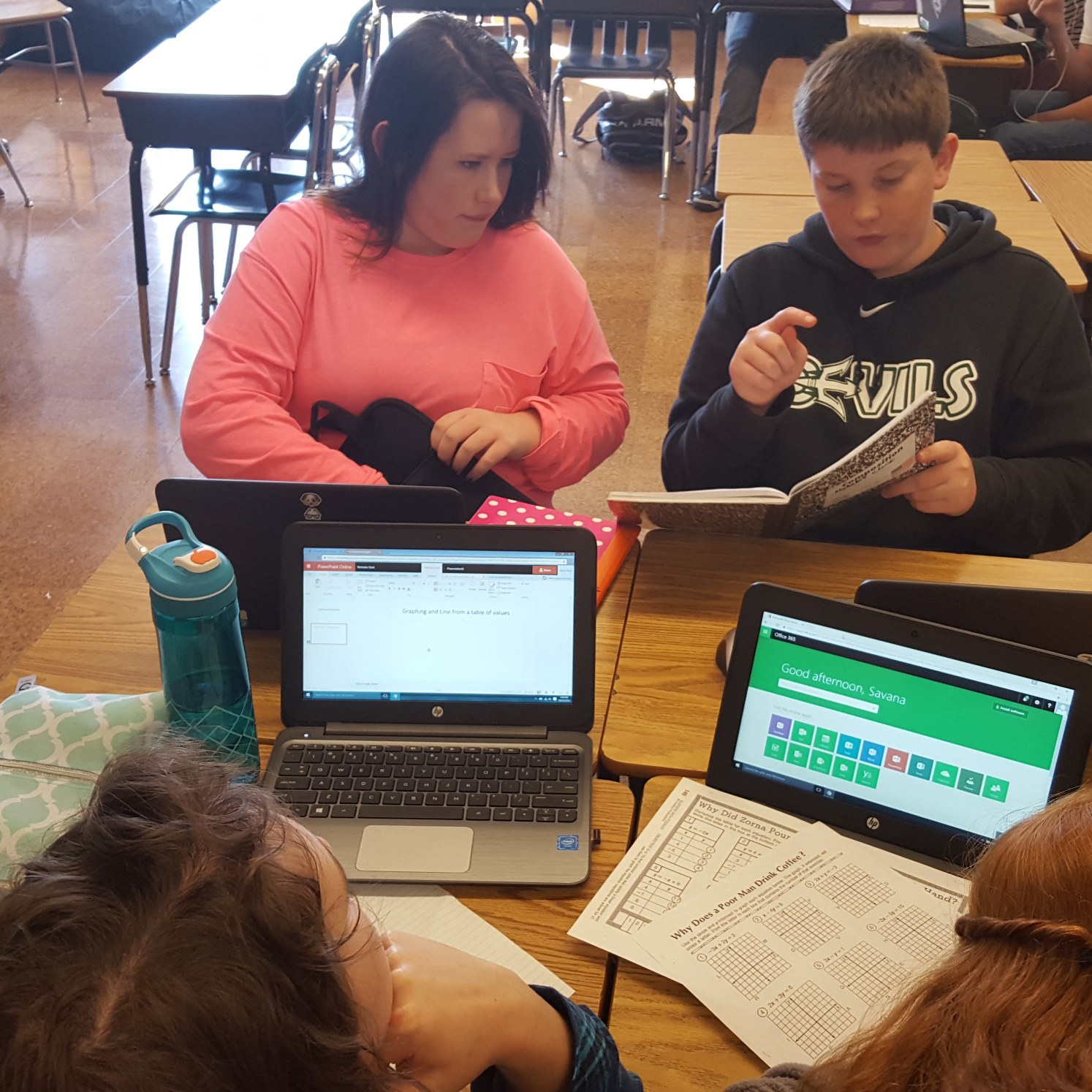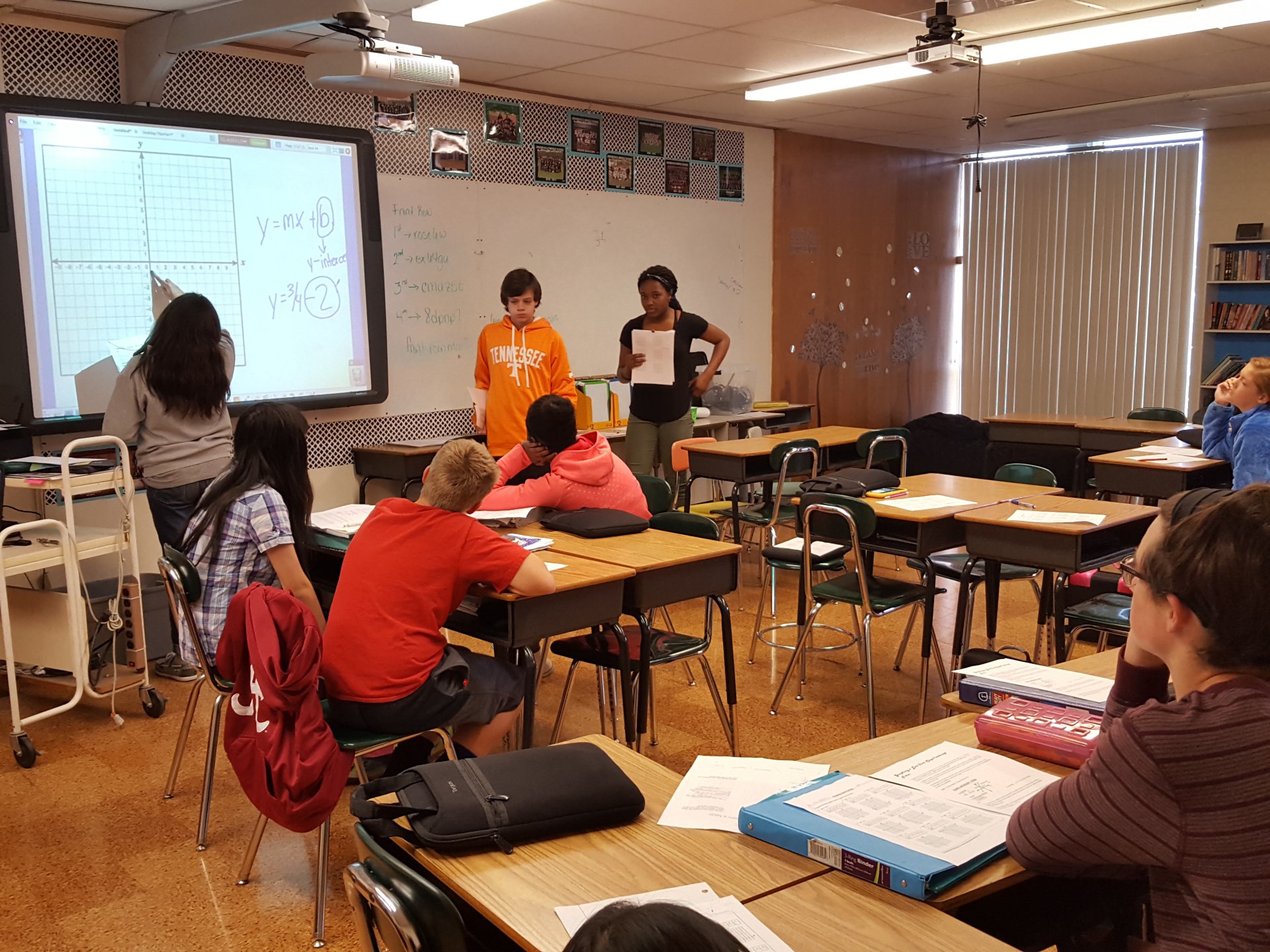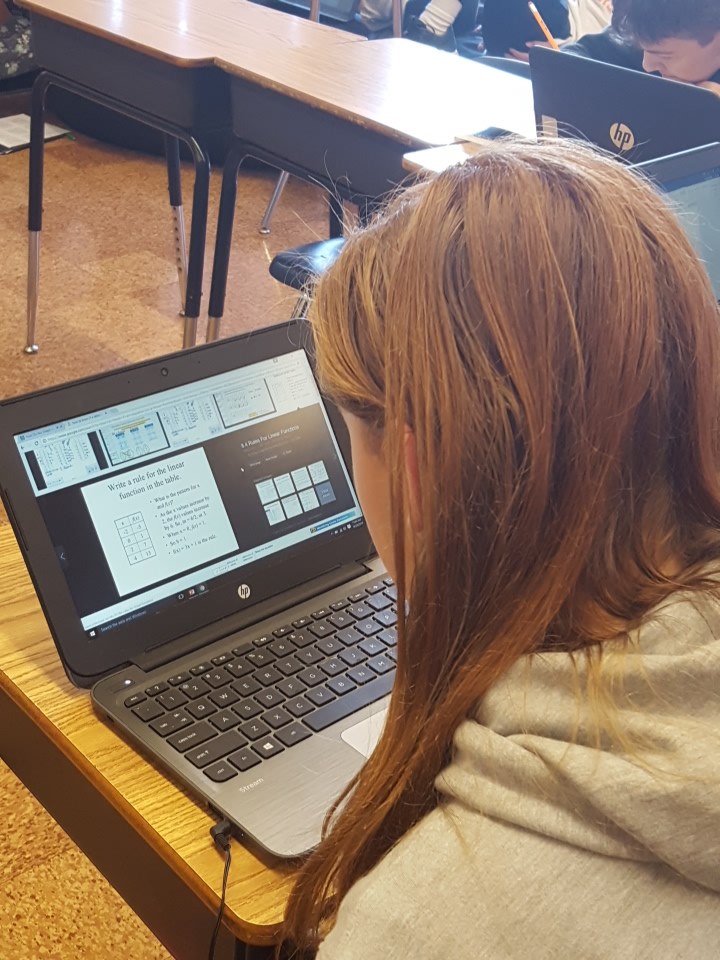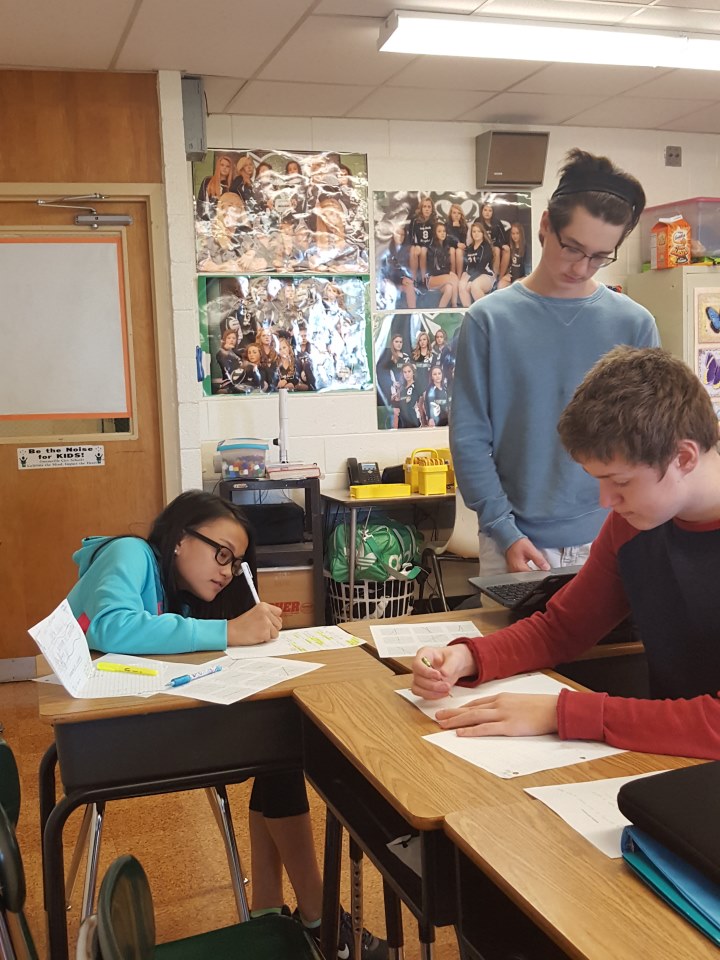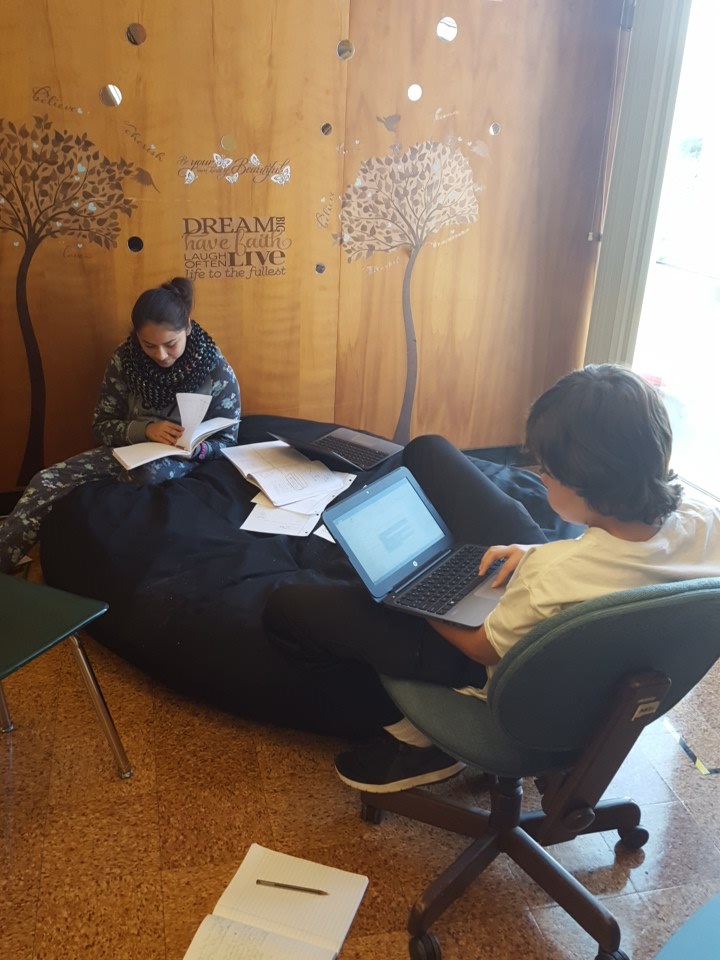 September 2016
Integrating Music and Academics Using Technology
by: Matthew Brickey and Heather Fay
Highland Elementary School's 5th graders are using their new 1:1 HP stream devices to enhance their learning about musical instruments. Mrs. Heather Fay's 5th graders are preparing for a field trip to see the Knoxville Symphony Orchestra in November. The 2nd-5th graders at Highland will all be attending the concert. The concert is part of the Knoxville Symphony Orchestra's educational outreach. The symphony will perform two kid's concerts at the Niswonger Performing Arts Center. Mr. Matthew Brickey, music and art teacher at Highland explains how the students are preparing for the concert while using their new HP Stream laptops. "We've been learning all about the different instrument families, how each instrument sounds and how they come together to make the orchestra. Our new technology allows each child to explore, at their own pace, the many online resources to learn about the orchestra. All the famous orchestras have interactive children's websites to teach children about the orchestra and the importance of music in our lives."
The students have been using www.nyphilkids.org (the New York Philharmonic Orchestra's educational site) to learn more about the instruments of the orchestra. There is an instrument 'storage room' where the children can click on each instrument, hear what it sounds like, read about how the instrument works, and its role in the orchestra. The kids can also read about the famous conductors of the orchestra and watch online concerts. One of the favorites on the site for Mrs. Fay's 5th grade class is the game Instrument Frenzy. The object of the game is to organize the different instruments into their families: woodwinds, brass, percussion and strings. "It can get pretty competitive, but the kids are learning so much through this online resource," says Mr. Brickey.
Online resources are just one tool that Highland is incorporating into its curriculum. Mr. Brickey is working closely with the teachers at Highland and integrating what they are learning in the academic classroom into the music and art lessons. Also in November, the intermediate students at Highland will be participating in a mock election. Students in 3rd-5th grades have been studying about the elections which will lead up to the mock vote in November. The students will have their own pretend 'voter ID' card, cast their ballot and receive their official "I voted" sticker from the state of TN. In addition to the voting, Highland intermediate students will be researching and making campaign posters in art class. The posters will be displayed throughout the school for the mock election.
Technology is just one tool teachers at Highland are using to enhance learning and develop the whole child. Music and art are very important to the development of the whole person. Academics grow your mind. Physical education teaches you to take care of your physical self, and the arts keep your emotional-self healthy and alive. Mr. Brickey says, "I think Highland is a gem of a school. The staff work hard every day to provide the best educational experience possible for the students. The closeness of the small student population allows all of the teachers to work together on an across-the-board experience, which I think in the long run benefits students."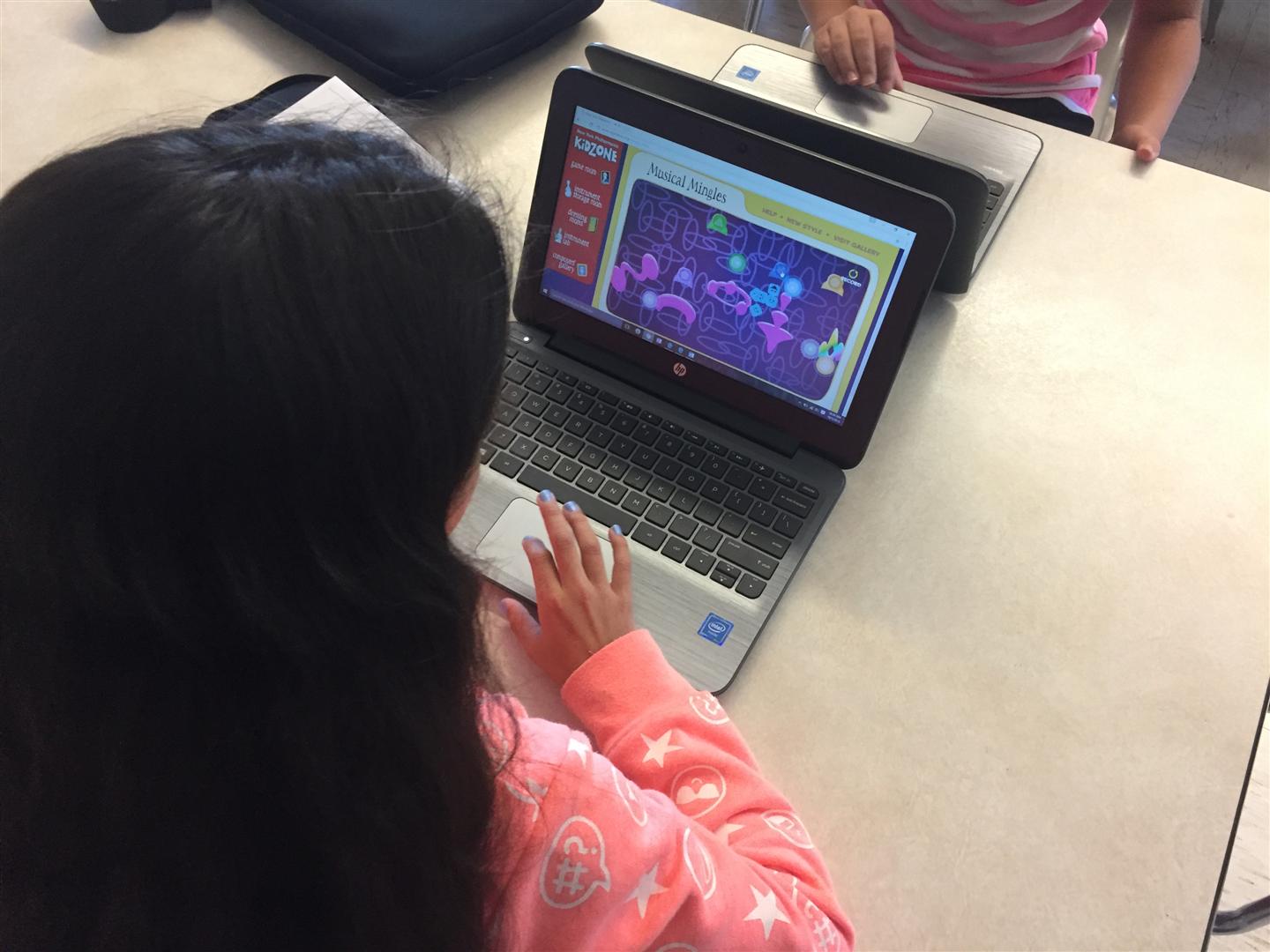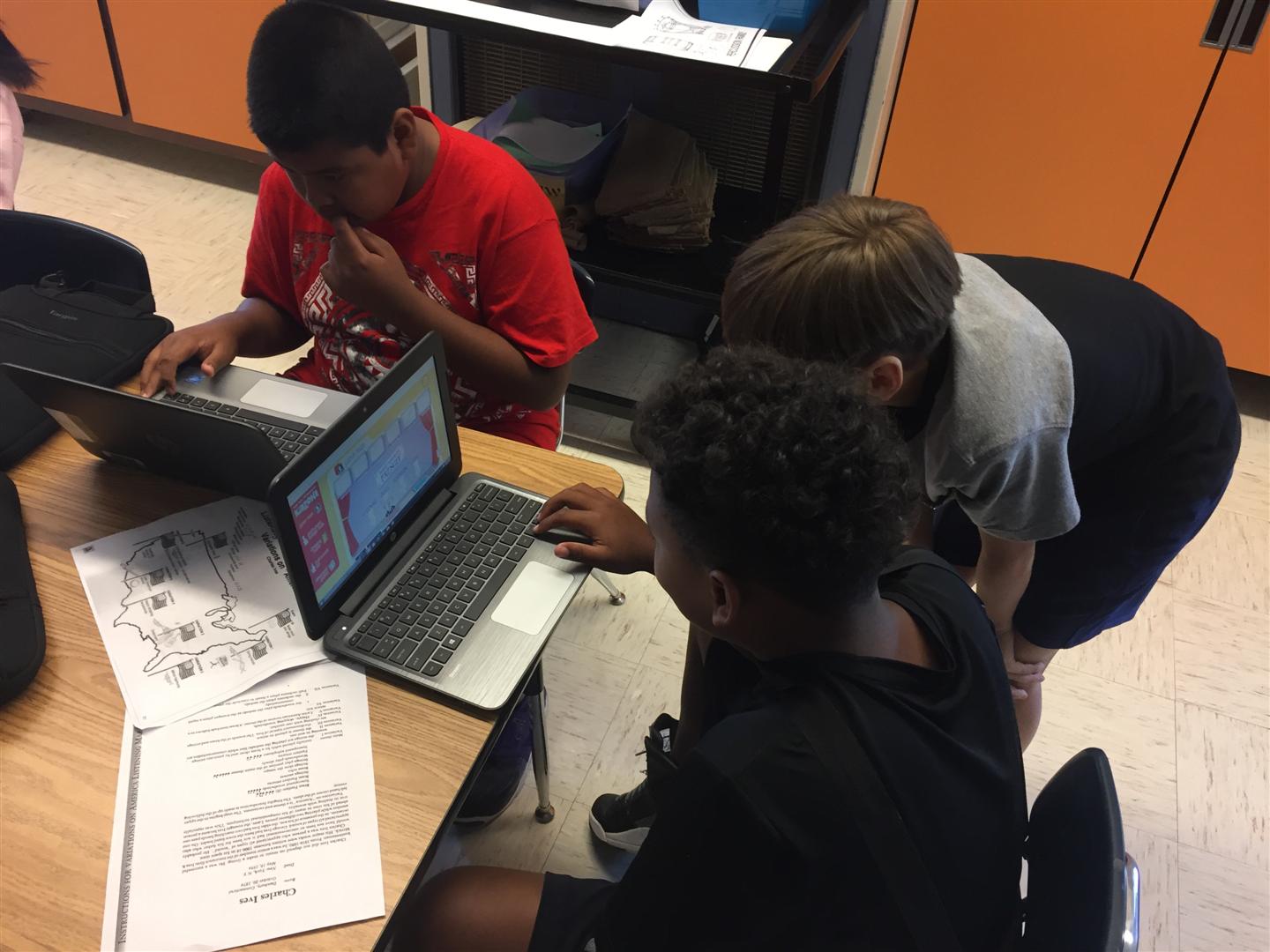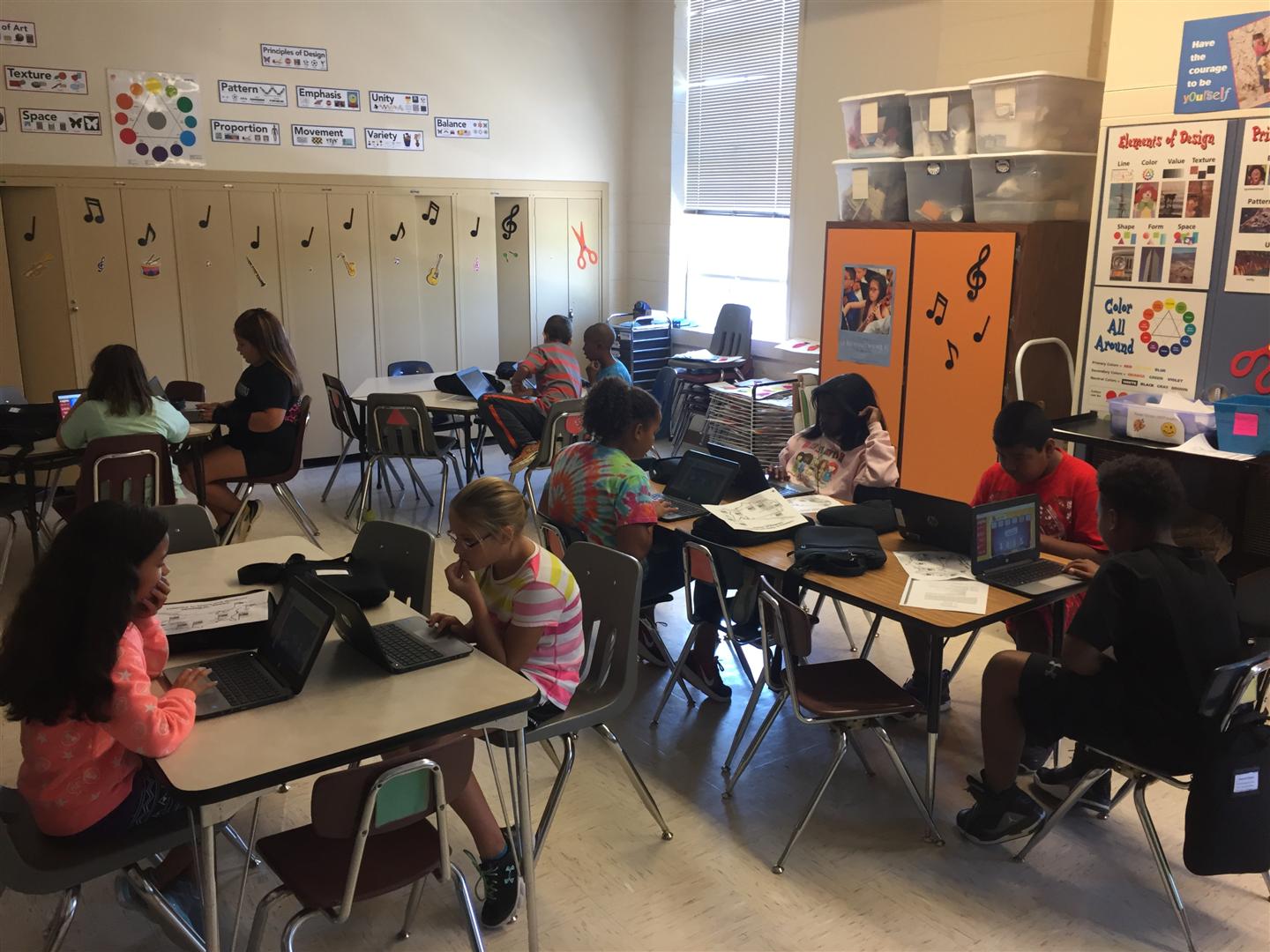 April 2016
Voice Presentations using Voice Thread to Demonstrate FDR's Four Freedoms
by: Renee Skeen
Tusculum View's 5th grade Social Studies class recently used Voice Thread to observe a presentation of Norman Rockwell paintings demonstrating Franklin Delano Roosevelt's four freedoms including speech, worship, from want, and from fear. This presentation, however, was anything but ordinary. It included voice.
"When I first walked in the room," observed Nicole Wagner, Administrative Assistant to the Director of Schools, "it was completely silent as the students worked on their computers provided by the district. Once their time was up, I had the privilege of seeing and hearing what they had been looking at."
This lesson, developed by Tusculum View Social Studies instructor Renee Skeen, allows students to interact and engage with FDR's four freedoms. Ms. Skeen's voice prompted the students to think about what they were observing from the Norman Rockwell paintings. On the slide concerning speech, Ms. Skeen encouraged her students to think about what the freedom of speech would look like today. The answers included computers, phones, and most specifically social media. Ms. Skeen then cautioned her students on cyber security and their digital footprints.
Ms. Skeen concluded the class by using a program called Kahoot. The students are reading a book on World War I, and Ms. Skeen encourages reading by periodically engaging the class in a quiz with Kahoot. Kahoot is a fun program that allows each student to participate in quizzes that test their knowledge while also fueling friendly competition.
"Renee Skeen is leading the way in the use of digital programs in the classroom, including Voice Thread and Kahoot," said Dr. Jeff Moorhouse, Director of Schools. "These are great tools used by an excellent teacher to enhance the learning experience."

March 2016
Theatre Production in Middle School Social Studies
by: Aaron Bible
Greeneville Middle School's 7th grade Social Studies class recently created a play that will depict the coronation of Charlemagne from the 9th century. In groups of 2 to 4, the students simultaneously edited their assigned 'scene' to create an entire play that will soon be reenacted.
"I spoke to the Holy Roman Emperor Charlemagne and Pope Leo III while in this classroom," said Nicole Wagner, Administrative Assistant to the Director of Schools. "It was a great experience seeing students preparing to portray these characters and getting excited about a real person from history."
This lesson, developed by GMS Social Studies instructor Aaron Bible, makes history come alive with Microsoft Office 365. Microsoft Office 365 for Education is a collection of services, including note-taking and real-time collaboration, that was "designed to help students and teachers work together in exciting ways." Aaron Bible certainly designed an exciting and engaging lesson for his students.
"The purpose of the digital transformation is to provide great teachers with great tools that inspire students to innovate and learn," said Dr. Jeff Moorhouse, Director of Schools. "Microsoft Office 365 is a great tool for teachers and students that promotes collaboration and creativity in the classroom."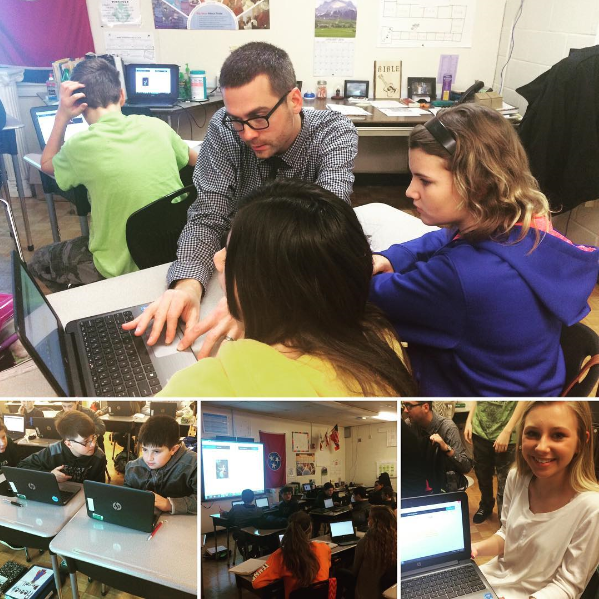 February 2016
House Design in High School English
by: Ashley Bible & Christy Fox
Students read Walden by Henry David Thoreau, Self-Reliance by Ralph Waldo Emerson, and Into the Wild by Jon Krakauer. Then, they compared the ideas and beliefs of these authors to the beliefs of tiny house owners by reading informational text articles about tiny houses. Lastly, they designed a tiny house of 500 sq feet or less (great incorporation of math!) using an online floor plan designer for Thoreau, Emerson, or Chris McCandless using evidence from the text to support their design choices. They also incorporated quotes from the book to describe their design. Noelle Smith, Vice Principal of GHS, said, "I am so impressed with the use of technology by these ladies and so many of our teachers here at GHS!"